Clive Christian No. 1
$2,150 per ounce
Clive Christian is one of the best perfume makers in the world. He has invented a number of popular scents. "No. 1" is the best perfume created by Clive Christian. This perfume was the most expensive fragrance from the year 2001 to 2006. It comes in two flavors: Woody Oriental for men and Floral Oriental for women. There is a good reason for this fragrance's luxurious smell. 
-Its best notes are made from thyme, cardamom, Sicilian mandarin nutmeg, lime, and bergamot.
-The heart notes are a combination of lily of the valley, rose, jasmine, ylang-ylang, and heliotrope.
-The base notes are a result of vetiver, vanilla, amber wood, cedar wood, and sandalwood.
This charming perfume is packaged in a handmade crystal bottle that has a neck made of 24-karat gold-plated sterling silver, set with a solitaire.
Chanel Grand Extrait
$4,200 per ounce
In 1921, the most famous perfume brand "Chanel" invented this amazing fragrance. They created a unique perfume that cannot be copied. Designer Ernest Beaux used expensive ingredients of that time for making this expensive perfume.
-Such as superior ylang-ylang, Rose de Mai, and jasmine from Grasse.
-The fragrance was then enhanced with its signature feature which is a 1% overdose of aliphatic aldehydes, a chemical that improves scents.
This feminine fragrance exudes the smell of fresh abstract flowers. The bottle itself, is a masterpiece of artwork and the two together, create an unforgettable look and feel of femininity.
Baccarat Les Larmes Sacrees de Thebes
$6,800 per ounce
The fragrance's name means "Sacred Tears of Thebes" and, it was designed by Christine Nagel. Baccarat was originally a maker of impeccable crystal products after that it entered the fragrance industry in the 1990s. This item is part of its three exclusive limited-edition perfumes.
-Its fragrance is the result of a combination of myrrh, frankincense, musk, sandalwood, myrtle, basil, cardamom, ylang-ylang, geranium, jasmine, and amber.
-Packaged delightfully in a unique pyramid-shaped crystal bottle.
It is so expensive because the bottle is handmade by Baccarat experts and is capped by an amethyst crystal. The bottle has a bubble of yellow crystal blown inside that hosts the scent.
Clive Christian No. 1 Imperial Majesty Perfume
$12,721.89 per ounce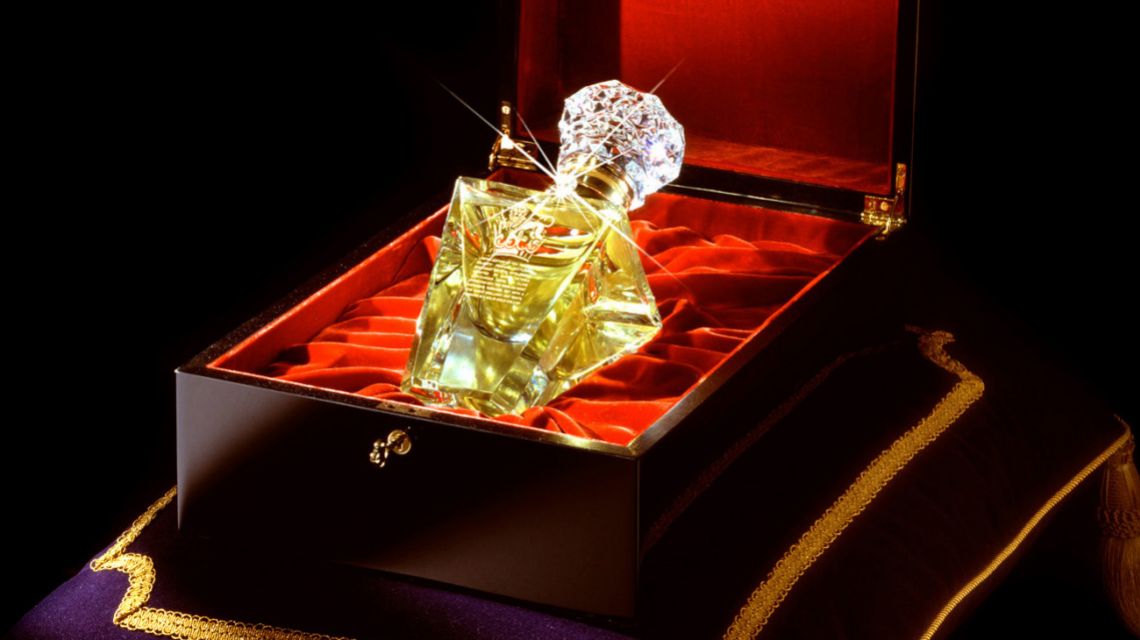 The perfume is a creation of the renowned perfumer Roja Dave. You will feel like the Greek goddess of love and beauty, Aphrodite, when you wear this perfume.
-This fragrance for women is created by a combination of ingredients including Tahitian vanilla, ylang-ylang, rosa centafolis, Italian cinnamon, jasmine, orris root, and rose oil. 
It has a unique bottle that is a made of a material that is very hard to work. The bottle's neck is made of 18-carat gold inset with a five-carat brilliant-cut diamond.
DKNY Golden Delicious Million Dollar Fragrance Bottle
$1 million
The most expensive perfume in the world created by renowned designer DKNY and the jewelry designer Martin Katz together. The main reason for this high price is its beautiful perfume bottle. 
-The bottle contains a 2.43-carat yellow Canary diamond in the cap, 4.03-carat rose-cut diamond, 3.07-carat oval-cut ruby, 1.06-carat Paraiba tourmaline from Brazil, 4 rose-cut diamonds, 15 stunning pink diamonds from Australia, 7.18- carat oval Cabochon sapphire from Sri Lanka, 2,700 white diamonds, and 183 yellow sapphires.
-Each stone was carefully hand placed and the entire manufacturing process took about 1,500 hours.
This million-dollar perfume was created for a noble cause as the sale money were donated to the 'Action Against Hunger' charity organization.
Latest posts by Aziha Kamal (see all)