IDE stands for Integrated Development Environment. The term "integrated development environment" means that you have everything you need to turn code into functioning apps and programs. An IDE is a software application used by programmers for code development and more than a simple text editor. 
Microsoft Visual Studio is an integrated development environment from Microsoft. It is used to develop computer programs, as well as websites, web apps, web services, and mobile apps. The many editions of this IDE are capable of creating all types of programs ranging from web applications to mobile apps to video games. Visual Studio is a great tool for both students and professionals.
Languages Supported: ASP.NET, DHTML, JavaScript, JScript, Visual Basic, Visual C#, Visual C++, Visual F#, XAML and more
Most Popular Features:
A massive library of extensions that is always growing
IntelliSense
Customizable dashboard and dockable windows
Straightforward workflow and file hierarchy
Insights for monitoring performance in real time
Automation tools
Easy refactoring and code snippet insertion
Split screen support
Error list that allows debugging while building
Approval checks when deploying apps via ClickOnce, Windows Installer or Publish Wizard
NetBeans IDE is easy to install and use straight out of the box and runs on many platforms including Windows, Linux, Mac OS X, and Solaris. Netbeans is a free and open-source IDE. Ideal for editing existing projects or starting from scratch, NetBeans boasts a simple drag-and-drop interface that comes with a myriad of convenient project templates. It is primarily used to develop Java applications, but you can download bundles that support other languages.
Languages Supported: C, C++, C++11, Fortran, HTML 5, Java, PHP and more
Most Popular Features:
Intuitive drag-and-drop interface
Dynamic and static libraries
Multi-session GNU debugger integration with code assistance
Allows for remote development
Compatible with Windows, Linux, OS X, and Solaris platforms
Supports Qt Toolkit
Supports Fortran and Assembler files
Supports a number of compilers including CLang/LLVM, Cygwin, GNU, MinGW, and Oracle Solaris Studio
Eclipse is the most widely-used open source integrated development environment. Eclipse is a free and flexible open source editor useful for beginners and pros alike. Originally a Java environment, Eclipse now has a wide range of capabilities thanks to a large number of plug-ins and extensions. In addition to debugging tools and Git/CVS support, the standard edition of Eclipse comes with Java and Plugin Development Tooling.
Languages Supported: C, C++, Java, Perl, PHP, Python, Ruby and more
Most Popular Features:
A plethora of package solutions allowing for multi-language support
Java IDE enhancements such as hierarchical views of nested projects with customizable perspectives
Task-focused interface including system-tray notifications
Automated error reporting
Tooling options for JEE projects
JUnit integration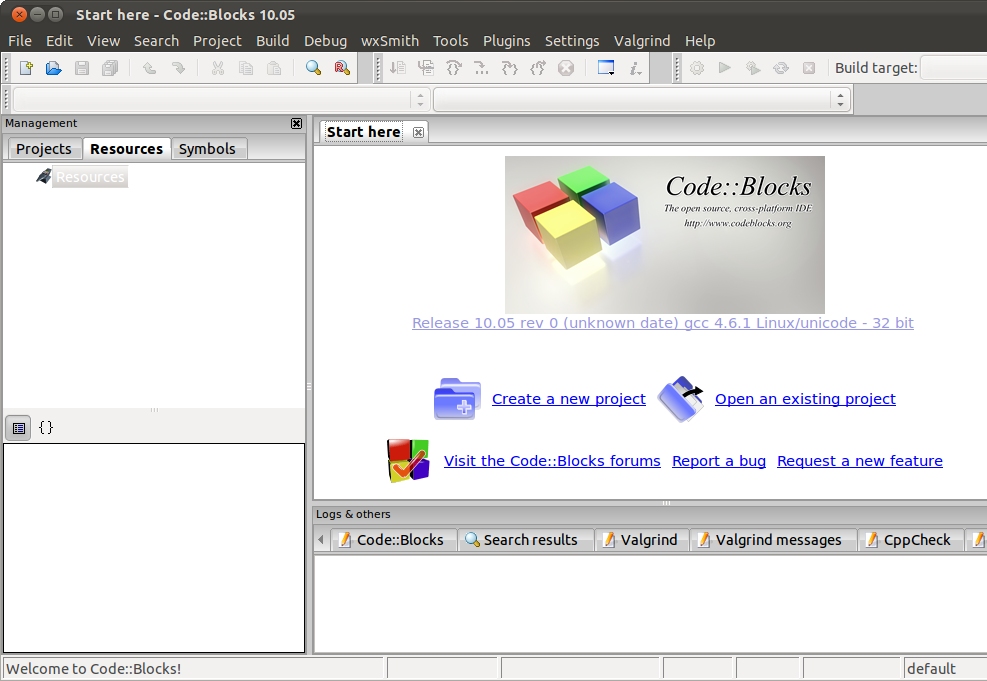 Code::Blocks is another popular free and open source option. It is a highly customizable IDE that performs consistently across all platforms, so it is great for developers who frequently switch between workspaces. The plug-in framework lets users tweak this IDE to meet their needs.
Languages Supported: C, C++, Fortran
Most Popular Features:
Easy-to-navigate tabbed interface including a list of open files
Compatible with Linux, Mac, and Windows
Written in C++
Requires no interpreted or proprietary languages
Supports many pre-built and custom-built plug-ins
Supports multiple compilers including GCC, MSVC++, clang and more
Debugger that includes breakpoint support
Text editor with syntax highlighting and autocomplete
Customizable external tools
Simple task management tools ideal for multiple users
Brackets is a modern, open source text editor that understands web design. With focused visual tools and preprocessor support, Brackets is a modern text editor that makes it easy to design in the browser. It's crafted from the ground up for web designers and front-end developers. Brackets is an open-source project, supported by an active and passionate community.
Languages Supported: C++, C, VBScript to Java, JavaScript, HTML, Python, Perl, and Ruby.
Most Popular Features:
Quick Edit.
Quick Docs.
Live Preview.
JSLint.
LESS support.
Open source.
Extensibility.
Latest posts by Aziha Kamal (see all)