The popularity of JavaScript is so incredible that you can call it the language of the web. For now, It is the best scripting language which facilitates designing of exciting interfaces, enhances web application development and does all these in real-time. Choosing from the most popular or powerful JavaScript frameworks for a new project can be a tough task. It will be easier if you know which are popular, powerful and why. The more you learn, the easier it will be to pick. Also if you are looking to learn, choosing the right one is tremendously important. This article speaks about the trending JS frameworks you should start learning from. Here is a google trending chart of some popular JS frameworks for you.
React Native
Github Stars: 71.3K+
With React Native, you don't build a "mobile web app", an "HTML5 app", or a "hybrid app". You build a real mobile app that's indistinguishable from an app built using Objective-C or Java. React Native uses the same fundamental UI building blocks as regular iOS and Android apps. You just put those building blocks together using JavaScript and React.
React Native is an open-source framework created by Facebook, Instagram and the great community of developers. It uses JavaScript and JSX (JavaScript-XML) to create native apps for iOS and Android. With React Native, you can create a full mobile app just as you would in Java or Objective-C.
Pros:
It's a growing JS framework and already too popular among the developers
It is highly versatile, preferred for cross-platform tasks
By using native controls and native modules, React Native improves on performance by a good margin
Rich resources of ready-to-apply components so that you don't need to start from scratch every time
You needn't worry about the stability and reliability of apps built with React Native
Cons:
Newcomers may struggle a bit for the starter
If you intend to build large applications, the learning curve can be a little steep
App Performance Lacks as Compared to a Pure Native App
You may still need to write a minimal amount of native code
Facebook, Instagram, Whatsapp, Dropbox, and some other popular platforms use React Native. The rate at which the React community is growing, you should definitely look forward to grabbing the knowledge of it.
Vue.js
Github Stars: 120.2K+
Vue.js is growing into maturity, though the framework has been around since 2013. But it still looked at as a new player in the JavaScript framework scene. The recent growth of the Vue community is stellar. The development of Vue is not backed by a major organization. The entire operation is dependent on some individual donations. Vue is the easiest to learn among the frameworks in the list.
Vue is a progressive, incrementally-adoptable JavaScript framework for building UI on the web. It features an incrementally adoptable architecture that focuses on declarative rendering and component composition. Advanced features required for complex applications such as routing, state management, and build tooling are offered via officially maintained supporting libraries and packages.
Pros:
Vue is fairly simple and easy to get along with
The size of the Vue is so small. The minified version of the whole file is 18kb, yet it's so robust and fast.
It has got one of the best documentation libraries you could ever find
Smaller interactive parts can be easily integrated into the existing infrastructure with no negative effect on the entire system
It is flexible and very responsive
Vue is much more fun to learn compared to React
Cons:
Lack of resources including common plugins/components
The language barrier is a big issue for Vue. Majority of the users are from non-English speaking communities
It's evolving too fast
Though Vue.js is not a framework in a complete sense it serves as a quick and easy fix for applications and interfaces development.It's a great choice to start learning the frameworks in an easy way. If you are a beginner, it's best choice you've in your hands.
Angular 5
Github Stars: 43K+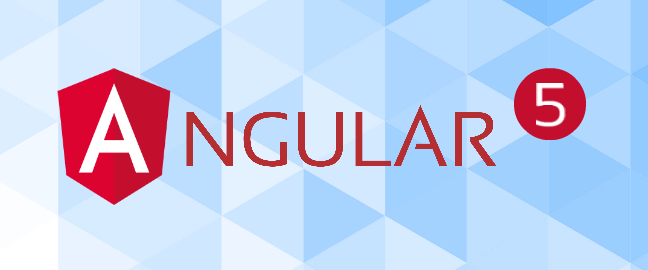 Angular is a TypeScript-based open-source front-end web application platform led by the Angular Team at Google and by a community of individuals and corporations. It's the most known framework of JavaScript among the developers.
Angular 5 has been released in November 2017. But till now it is one of the most popular JS framework version. You can look for the latest versions though.
Pros:
Angular 5 is quicker, lighter and easier
It ensures faster and easier two-way data binding
The new HTTP shopper is introduced that's small in size & easy to use
Angular 5 reduces some burdens from server CPUs by supporting cache and many other processes
Cons:
If you are not familiar with the Model-View-Controller architectural patterns, using Angular can be extremely time-consuming
Angular was the most popular one. But it's decreasing with the passage of time.
It is comparatively complex and for a beginner, it will be hard to proceed
The framework is definitely worth trying once. But we don't recommend you to start learning with Angular 5 or any other versions of Angular.
Ember.js
Github Stars: 20.3K+
Ember.js is based on the Model–view–viewmodel pattern. It allows developers to create scalable single-page web applications by incorporating common idioms and best practices into the framework. It focuses on getting things done and getting them done quickly.
Ember.js was introduced to the software market in 2015 and since then, it has gained popularity with its wide application area. Ember is very easy to build with – as long as you're willing to follow Ember's structure. If you are unable to do so, Ember may not be the right tool for your project.

Pros:
The data library of Amber is very rich. You will get quick support from an active community
Ember CLI

does its job very well and speeds up your development

Built-in testing tools

can be a great help
Cons:
The learning curve for a newbie is pretty steep

Less space for customization

Most of the e

mber add-ons are quite below standard.
Netflix and Linkedin are using Ember.js. If you are new in this area, don't go for it instantly. Learn more and then think about Amber.
Node.js
Github Stars: 55.8K+
Node.js is a JavaScript runtime environment. The framework has been in the market for quite some time now, and it includes all the functionalities one would need to run a program written in JavaScript.
The framework is capable of driving asynchronous I/O with its event-driven architecture. It works in the JavaScript Runtime environment and hence shows similar properties of JAVA like threading, packages, forming of loops.
Pros:
Share the same piece of code with both server and client side

npm, the Node-packaged modules have already become huge and still growing

Its built on JavaScript and has a relatively small learning curve

Its data intensive, lightweight and perfect on distributed devices
Cons:
Due to asynchronous nature, working on the logic is a little complex

Every time using a callback end up with tons of nested callbacks

Without diving in depth of JavaScript, if someone starts Node, he may face the conceptual problem

Not very suitable for high computational programs
Numerous companies have trusted Node.js in the production of their applications and they've already experienced positive results. It is definitely worth following their example and trying to identify which of the problems you have can be solved with Node.js. Effects might outgrow your expectations.